Q: Why is the digital flipbook not showing the updated advert?
If you use AutoPublish to create a digital flipbook for your publication. Once you view it on your computer it's likely a copy will be saved in the cache memory. It's a temporary storage, that allows a webpage that you've previously visited to load quicker. However, it can cause a problem when you make a change to the digital flipbook and you try to view it a second time, as the copy displayed is the one from the cache memory.
A: It's cached on your computer.
The easiest way to tell if it's a browser cache issue is to open the flipbook for the first time on another device.
To refresh the cache, you should have the web page open in your browser on the cached page. This should be the specific page of the flipbook and follow one of the steps below – this forces the web browser to retrieve the webpage from the server instead of loading it from the cache memory, if multiple pages are like this you may need to repeat the process for each page:

PC – hard refresh on most browsers
Hold down Ctrl then press F5.

Mac – hard refresh on Google Chrome browser
Hold down the Cmd and Shift Key then press R.

Mac – hard refresh on Safari browser
Hold down the Option and Cmd key then press the E key
If the refresh does not work you may need to clear the cache.
To clear the cache on Google Chrome:
Step 1: Launch Google Chrome > Click the Chrome menu icon represented by three horizontal bars in the top-right corner of screen > Click Settings near the bottom of the drop-down menu.

Step 2: Click the link for Privacy and Security in the left sidebar > Look for the Clear browsing data option > Click it, and make sure the box for cached images and files is checked > You can uncheck the other boxes for browsing history or cookies and other site data if you only want to clear the cache > Click Clear Data.
Mac - to clear cache on Safari: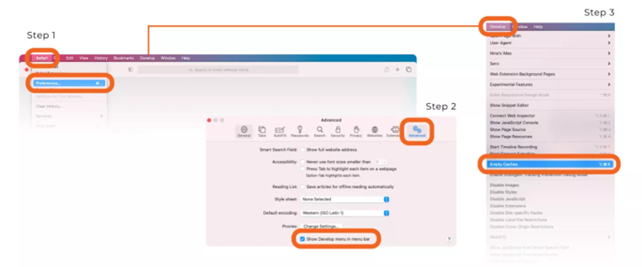 Step 1: Launch Safari > Click Safari in the top-left corner of the main menu bar > Select the Preferences option near the top of the drop-down menu.
Step 2: Click the Advanced tab located in the top navigation bar > Check the box directly on the bottom that says Show Develop menu in menu bar > This will add a new menu to Safari by default.
Step 3: Click the Develop menu near the middle of the main Safari menu bar > Select the Empty Caches option.